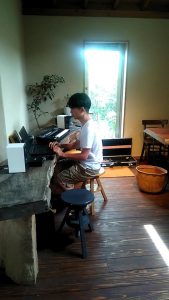 ---
Profile:
Yoshihiro Nakano (YOB: 1977; POB: Yamaguchi Pref., Japan).
The areas of specialisation are social philosophy and sociology of globalisation and development.  Dr. Nakano's research consists of two parts: (1) critical studies of the global society of consumers and (2) global intellectual history of anti-productivist social theories.
The first research area examines unsustainable nature of global capitalism in late modernity with a particular focus on the history of development and globalisation.  His recent research interest is to critically assess the impact of consumerist culture on human subjectivity and human ecosystem including its impact on affective dimension, sociability and cosmology.
The second area explores systemic alternatives to globalisation, investigating diverse grassroots social innovations. Dr. Nakano is particularly interested in the evolution of anti-productivist social theories in the Global North and the Global South, especially the diversity of their cultural roots and the process of dissemination, reception and translation among different cultural and linguistic universes.  His research covers postdevelopment, degrowth, social and solidarity economies, the Gandhian economics, feminist economics,  the economics of happiness, community economy and commons. Recently his research examines the evolution of Japanese theory of postdevelopment and degrowth in the context of global intellectual history.
Dr. Nakano is an instigator of degrowth and convivialism in Japan and publishes the Japanese translation of French, Spanish, Italian and English literature in the related field. The past collaborators include Serge Latouche, Jean-Louis Laville, Alain Caillé, Marc Humbert, Stefano Bartolini, Florance Jany-Catrice, José Luis Coraggio, Arturo Escobar, Ernesto Laclau and others.
---
Educational Background:
---
Current Position (April 2018 to date ):
Other Affiliations:
---
Teaching Experience:
History of Global Development / Doctrines of Economic Development/ Development Ethics/ North-South Relations/ Global Political Economy/ Development Education/ Peace Studies / Social Innovation/
For detail, see Researchmap
---
Social Activities:
---
Keywords of Research / Major Work / Publications / Photos & Topos / Contact
---